Garmin ECHOMAP ULTRA
Original price
€2,099.00
-
Original price
€3,419.00
VISI JUMS NEPIECIEŠAMIE RĪKI VEIKSMĪGAM LOMAM!
Saules gaismā lasāma 12″ skārienekrāna karšu plotera/sonāra kombinācija ietver mūsu pasaules bāzes karti, un devēja komplekts papildina CHIRP tradicionālos un augstas izšķirtspējas skenēšanas sonārus.
| | |
| --- | --- |
| |   |
| 12″ skārienekrāns ar iebūvētu taustiņu atbalstu piedāvā ērtu un mūsdienīgu zivju meklēšanas tehnoloģiju. | Skatiet gultnes struktūru un zivis izcilā detalizācijā dzidrā attēlā, izmantojot papildu raidītāju - uztvērēju! |
Lielākus lomus tagad varat gūt, lietojot ierīcē iebūvētas atbalsta funkcijas!
| | |
| --- | --- |
| |   |
| LIVESCOPE™ SONĀRA ATBALSTS | IEBŪVĒTS UHD SONĀRS |
| ECHOMAP Ultra atbalsta dažādus Garmin pārveidotājus (nopērkami atsevišķi), tostarp LiveScope labu redzamību nodrošinošo reāllaika sonāru. | Skatiet augstāko pieejamo izšķirtspēju ClearVü un SideVü skenēšanas sonāra attēlos un pārsteidzoši skaidrus plaša darbības diapazona CHIRP tradicionālā sonāra attēlus! |
JŪRAS UN SAUSZEMES KARTES
Piešķiriet savam karšu ploterim jaunu izskatu un izbaudiet nebijušas sajūtas ar Garmin Navionics+™ vai Garmin Navionics Vision+™ augstākās klases papildu kartēm, kurās pieejams integrēts piekrastes/iekšzemes saturs, piekļuve ikdienas atjauninājumiem, Auto Guidance+™ tehnoloģija2 un daudz kas cits.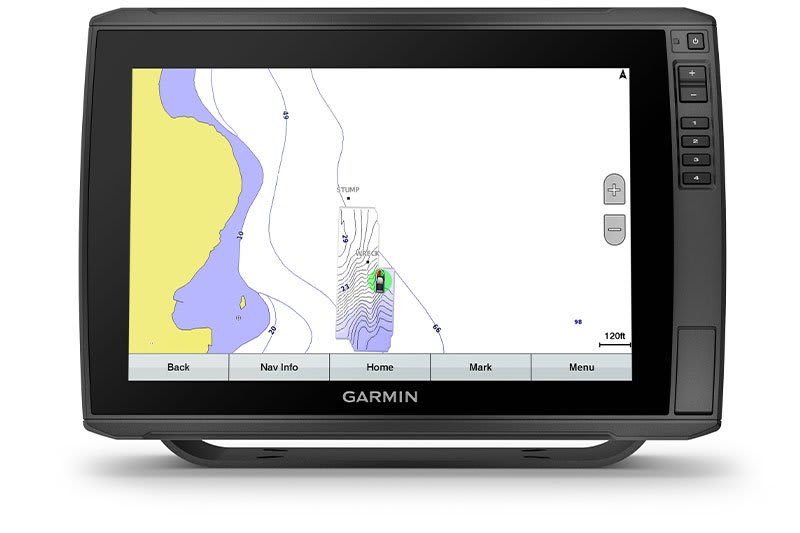 QUICKDRAW CONTOURS FUNKCIJA
Veidojiet personalizētas zvejas kartes ekrānā ar 30 cm (1 pēda) kontūrām. Neizpaudiet nevienam datus! Taču varat tos arī koplietot ar Garmin Quickdraw™ kopienas lietotnē Garmin Connect™.
Palieciet saziņā, gan esot uz ūdens, gan atgriežoties krastā!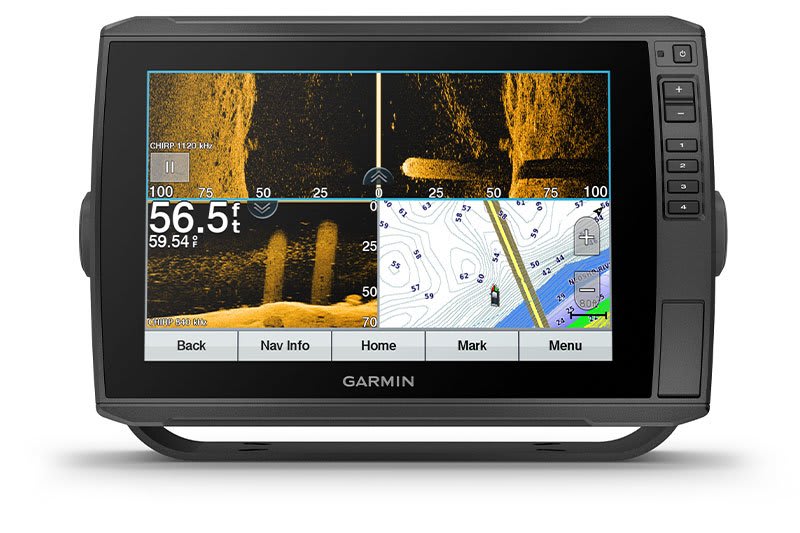 TĪKLA SAVIENOJAMĪBAS IESPĒJA
Ja jums ir vairākas saderīgas ECHOMAP Ultra 10″ un 12″ ierīces vai ECHOMAP Plus 7″ un 9″ ierīces jūsu laivā, varat koplietot informāciju — piemēram, sonāra, lietotāja datus un kartes, — starp ierīcēm.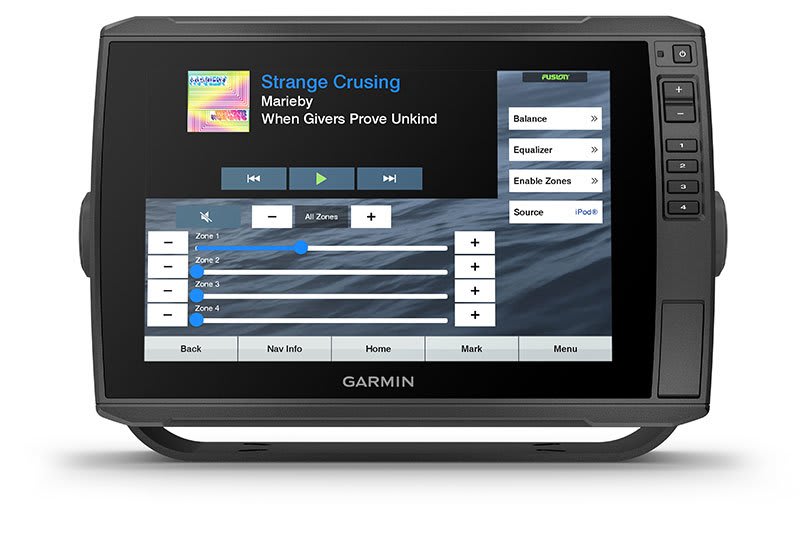 SADERĪBA AR NMEA 2000® TĪKLU
Izveidojiet savienojumu ar saderīgām autopilota un ciparu komutācijas ierīcēm, laikapstākļu datu nodrošinātāju un Fusion-Link™ audio sistēmu, multividi, VHF, AIS, dzinēja datu nodrošinātājiem, kursa sensoriem, piemēram, SteadyCast™ sensoru, un baudiet citas iespējas, izmantojot tikai vienu ekrānu!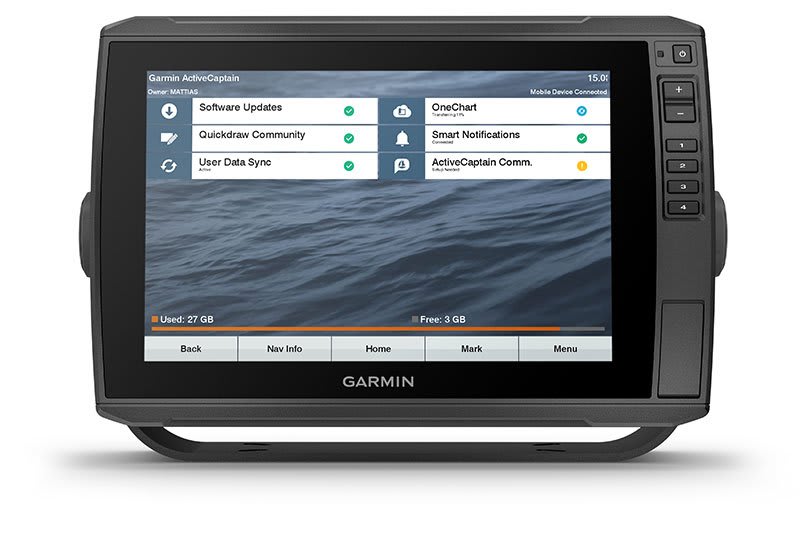 LIETOTNE ACTIVECAPTAIN
Iebūvēta Wi-Fi® savienojamība, lai izveidotu bezmaksas pāra savienojumu ar daudzfunkcionālu mobilo lietotni lai piekļūtu OneChart™ funkcijai, viedajiem paziņojumiem2, programmatūras atjauninājumiem, Garmin Quickdraw Community kopienas datiem un izmantotu citas iespējas.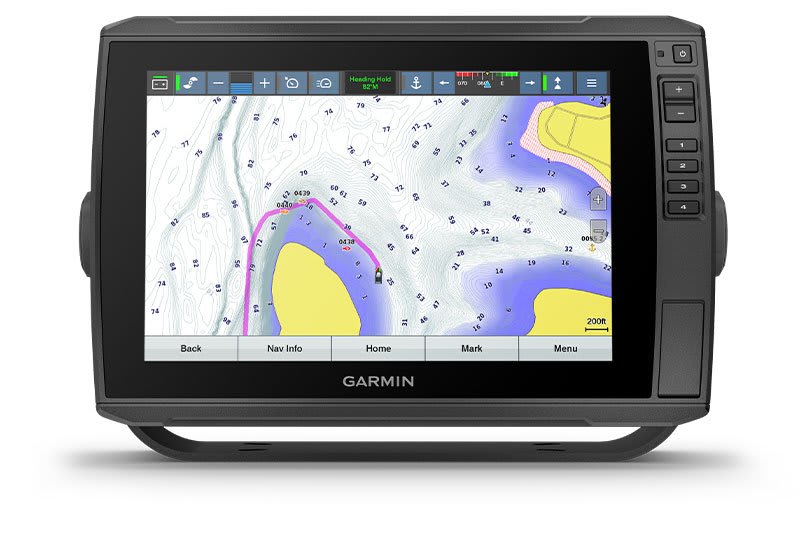 SADERĪBA AR FORCE™ LAIVAS ELEKTROMOTORU
Pārņemiet jaudīgākā un efektīvākā pieejamā laivas elektromotora vadību 3, maršrutējiet to ceļa punktos, sekojiet maršrutiem un izmantojiet citas iespējas sava karšu plotera spilgtajā IPS ekrānā!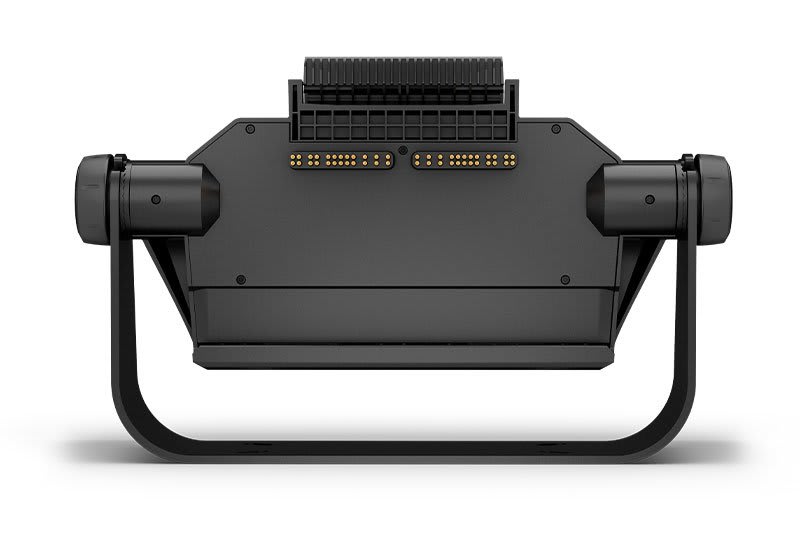 ŅEMIET TO SEV LĪDZI!
Rūpējieties par ECHOMAP Ultra drošību un aizsardzību! Vadus varat iespraust tieši ātri atvienojamā stiprinājumā, kas ļauj ierīci ātri uzstādīt un vienkārši noņemt.